Equinox Luxe Terminals Certified on Monetra's TranSafe Payment Gateway
Turn-key integration of Equinox POS and portable payment devices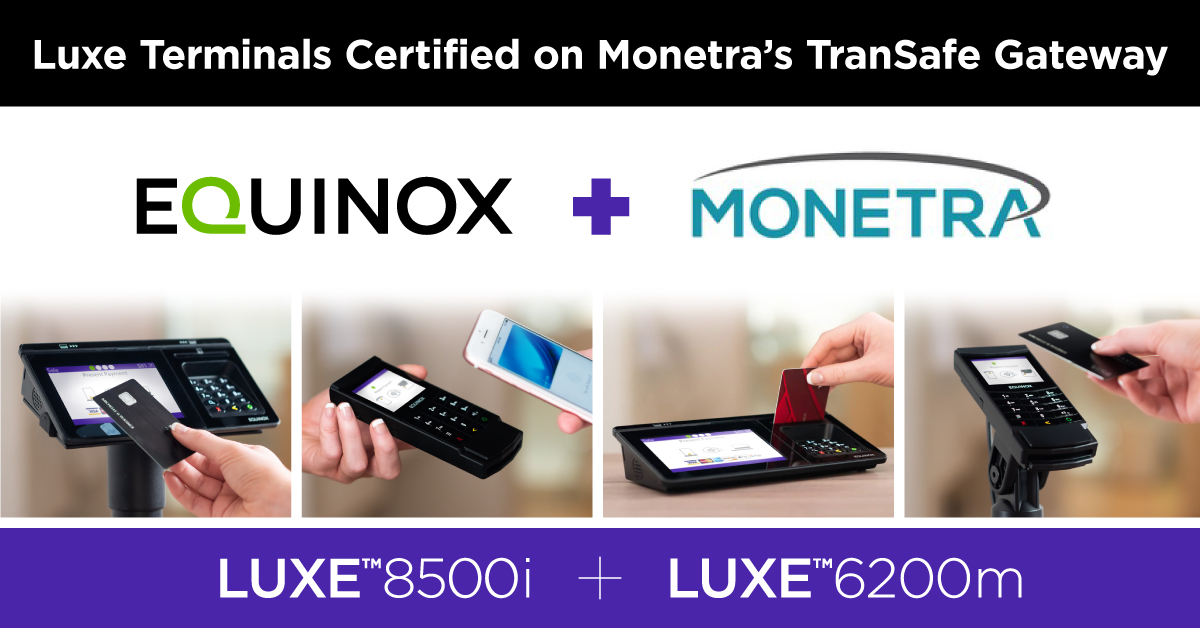 GAINESVILLE, FL & PHOENIX, AZ – February 9, 2021 — Equinox Payments ("Equinox"), a leading provider of payment terminals, software and services, and Monetra Technologies ("Monetra"), a provider of payment gateway services and advanced electronic payment systems, have announced certification with Fiserv's First Data processing platform for the Equinox Luxe payment terminals using Monetra's TranSafe payment gateway and UniTerm device interface software.
"Every aspect of Luxe terminals has been designed to simplify use, optimize engagement, and reduce PCI overhead," said Rob Hayhow, vice president of Equinox. "Thanks to this plug-and-play integration with the TranSafe gateway, ISVs and POS developers can quickly offer retailers an improved customer experience backed by robust security technology."
The Luxe 8500i and Luxe 6200m are PCI PTS 5.x certified, share a common OS and run the same software in fixed and mobile use cases, so businesses of all types can accept payments wherever they occur: at the POS, in aisles, tableside, curbside or on the road. Remote Key Injection allows software and encryption keys to be securely updated from anywhere without having to remove the terminals from the lane or connect them to a separate device.
POS software developers can use Monetra's UniTerm device interface software to easily connect their application software to the TranSafe payment gateway and can quickly be up and running on Luxe devices to accept credit and debit payments via EMV cards, as well as contactless payments including Apple Pay and Google Pay. Monetra's UniTerm software provides a simple application interface and securely manages the EMV transaction process, securely handling all sensitive information while keeping the POS software "out of scope" for PCI PA-DSS validation requirements.
About Monetra
Monetra Technologies delivers secure, reliable, and comprehensive payment processing for all types of merchants including Retail, Restaurant, Mobile, Unattended, eCommerce, and Lodging. With unparalleled expertise in design and development, our enterprise-grade TranSafe payment gateway, and rock-solid software offerings, Monetra Technologies provides reliable and secure payment solutions for merchants and software developers. Please visit
www.monetra.com
for more information.
About Equinox Payments
Equinox Payments looks beyond product features to rethink and reimagine the customer payment experience. Equinox Payments LLC. was founded in 2014 and is headquartered in Scottsdale, Arizona. The parent company, NBS Payment Solutions, is based in Toronto, Canada and has been a leading provider of electronic payment solutions to the financial industry for over 26 years. For more information about Equinox, visit
equinoxpayments.com
.