Equinox Payments Enables Merchants to Tap Into Japanese Tourists' Spending Power with Support for JCB Contactless Cards
Equinox terminal lines to support JCB contactless technology at the point of sale in the US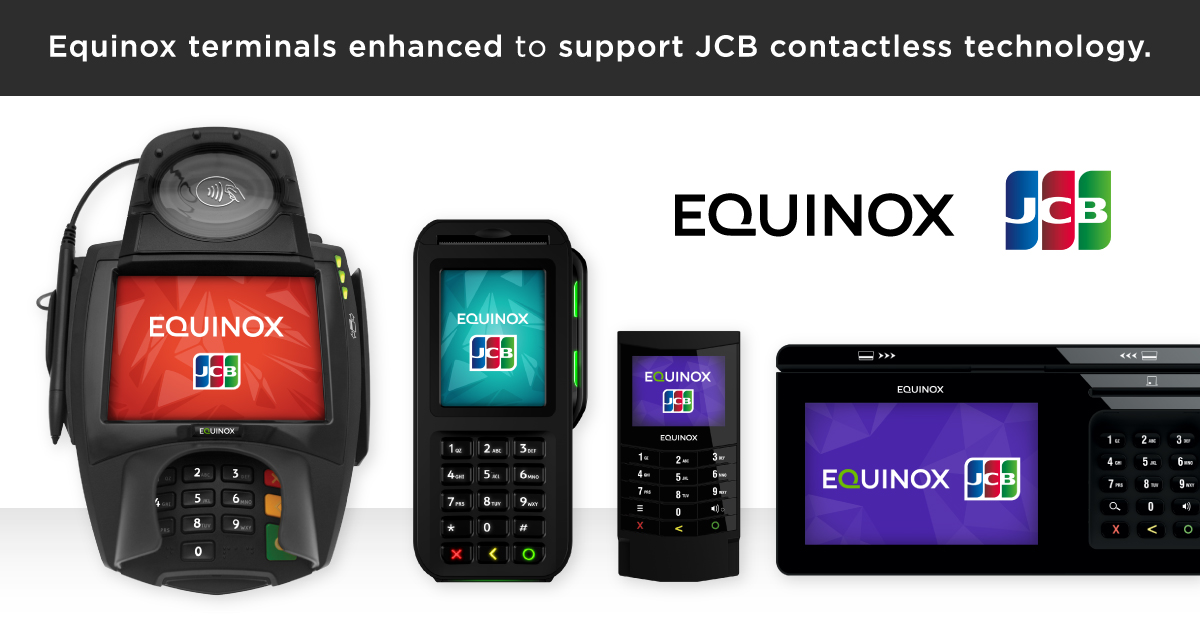 PHOENIX, AZ
— April 16, 2018 — Equinox Payments ("Equinox"), a leading provider of payment terminals, applications and support services, today announced that their Apollo, L5000 and Luxe terminal lines are being enhanced to support contactless chip technology for JCB cards. Final certifications are expected this summer, providing merchants with Equinox terminals a simple upgrade path to extend the convenience of tap and go payments via JCB chip cards and Apple Pay. JCB transactions are routed through Discover Network in the U.S.
"Merchants that adopt these solutions can improve the checkout experience for JCB card members, and make sure their business is ready for the JCB EMV liability shift that takes effect next year," said Rob Hayhow, vice president, Equinox Payments. "Once completed, all Equinox payment terminals will be automatically enabled to support JCB Contactless at the factory prior to release."
Consumer spending by JCB card members is significant. According to the U.S. Department of Commerce National Travel and Tourism Office, 83% of Japanese tourists cite shopping as a key activity. In 2016, 3.6 million Japanese visitors traveled to the U.S., spending about $16 billion. Supporting chip and contactless is a convenient way to remove any friction during the payment transaction since it mimics the process JCB cardholders are used to in their own country.
"This relationship underscores the partner-friendly approach that Equinox brings to the table," said Linda Horwath, vice president, Emerging Technologies at JCB. "We are excited to extend the speed and convenience of contactless payments to our valuable card members visiting the United States."
The Luxe family includes the elegant Luxe 8000i, designed for fixed acceptance areas including checkout lanes, retail countertops, and hotel registration desks, and the modular Luxe 6000m, ideal for both countertop and mobile acceptance uses like local roaming, line busting and field-level payments. Equinox has also integrated JCB support in its L5300 terminal in use today at many of the country's leading high-volume retailers, and in its Apollo stand-alone terminal, ideal for small business customers.
About JCB
JCB is a major global payment brand and a leading payment card issuer and acquirer in Japan. JCB launched its card business in Japan in 1961 and began expanding worldwide in 1981. As part of its international growth strategy, JCB has formed alliances with hundreds of leading banks and financial institutions globally to increase merchant coverage and card member base. As a comprehensive payment solution provider, JCB commits to provide responsive and high-quality service and products to all customers worldwide. Learn more at
jcbusa.com
.
About Equinox Payments
Equinox Payments, founded in 2014, is looking beyond product features to rethink and reimagine the customer payment experience. For more information about Equinox, visit equinoxpayments.com.