Equinox Payments Releases Luxe 3300a Countertop Terminal
Apollo AIO Gets Important Upgrades and Becomes Part of Luxe Family of Terminals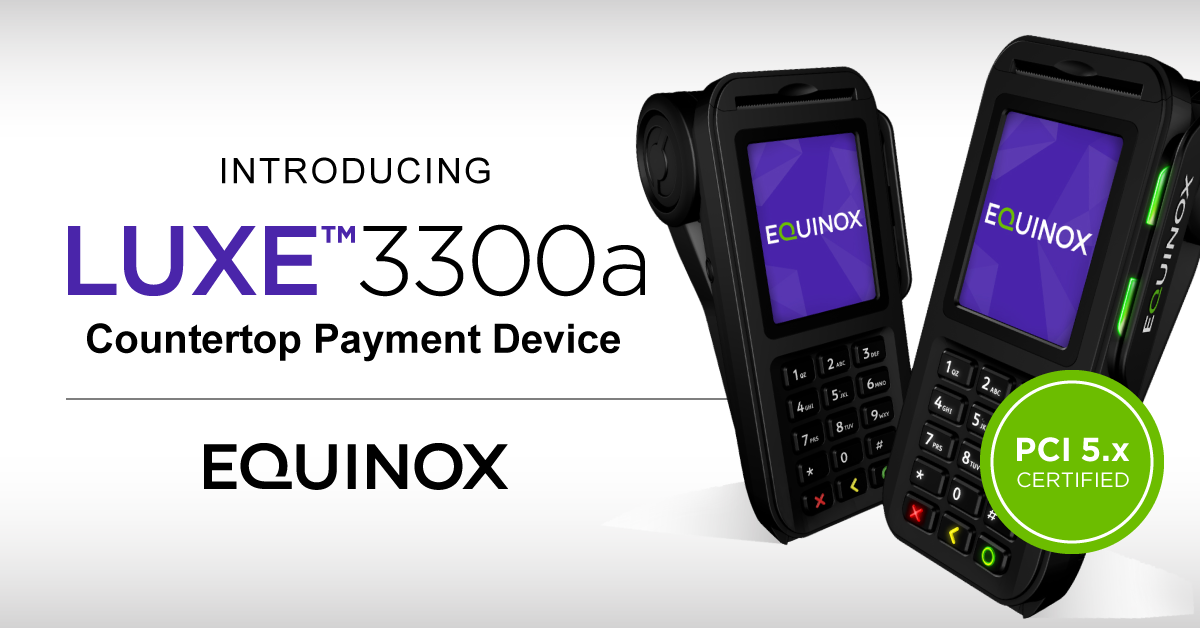 PHOENIX, AZ
— October 23, 2018 – Equinox Payments ("Equinox"), a leading provider of payment terminals, applications and support services, today announced that the Apollo AIO countertop terminal is now part of its Luxe family of products, positioned as the Luxe 3300a.
The countertop terminal received important enhancements in both design and engineering. Most significantly, the Luxe 3300a is PCI 5.x certified, attaining the highest level of security and allowing resellers to purchase with confidence through April 2026. The device shares the same kernel as the Luxe 8000i and Luxe 6000m, which eases EMV certifications. Finally, the device is now covered in a rich black encasing that makes the vivid color screen really stand out.
"The addition of a robust countertop device rounds out our Luxe terminal line that emphasizes security, ease of use and design as key differentiators," said Rob Hayhow, vice president, Equinox Payments. "PCI-validated point-to-point encryption extends peace of mind and eases the burden of annual PCI compliance for businesses large and small."
The Luxe 3300a terminal is a powerful all-in-one payment device that supports magnetic stripe, EMV and contactless payments. It can run as a stand-alone terminal, or interface with a POS system in a semi-integrated configuration through a few simple API commands. It is the industry's only countertop terminal that includes EMV for the Lodging segment—in addition to Retail and Restaurant—all through one Voyager application. The Luxe family also includes the sleek Luxe 8500i integrated solution and the versatile Luxe 6200m mobile solution.
About Equinox Payments
Equinox Payments, founded in 2014, is looking beyond product features to rethink and reimagine the customer payment experience. For more information about Equinox, visit
equinoxpayments.com
.