Equinox Payments Selects FreedomPay as Integrated Technology Partner
Combination of Equinox Luxe Terminals with FreedomPay's Smart and Secure Architecture Elevates the Customer Payment Experience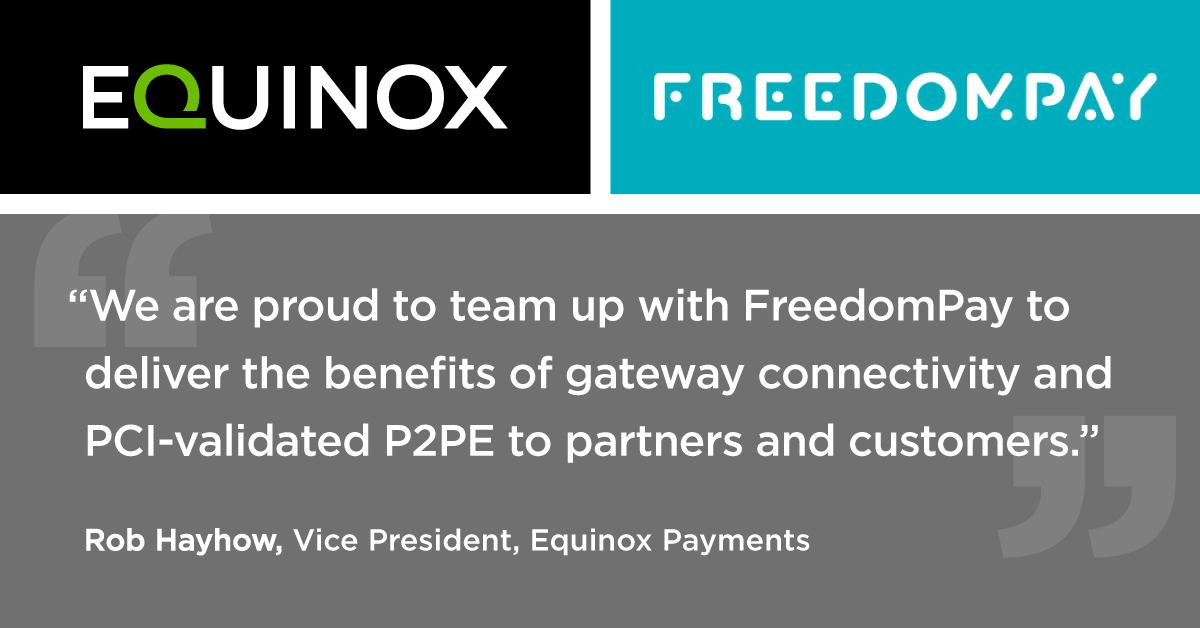 PHOENIX, AZ
– October 17, 2017 — Equinox Payments ("Equinox"), a leading provider of payment terminals, applications and support services, today announced a relationship with FreedomPay, the global leader in secure commerce technology for lodging, gaming, retail, restaurants, stadiums and other hospitality merchants, to integrate FreedomPay's secure technology into Equinox's Luxe line of retail payment terminals.
The FreedomPay Advanced Commerce Platform is the first PCI-validated point-to-point encryption (P2PE) solution featuring EMV, NFC, Dynamic Currency Conversion and real-time data capabilities that delivers on a global scale. By electing FreedomPay as their technology partner, Equinox can make payment transactions seamless and simpler for POS solution providers and merchants.
"The evolution of consumer behavior is driving merchants to innovate the payments experience," said Matthew Donnelly, vice president of security and solutions at FreedomPay. "With the ever-changing payments landscape, hospitality merchants and retailers are looking for simple, secure, and reliable ways to accept payments while enhancing the customer experience. By partnering with Equinox, we're able to provide merchants with a secure, end-to-end experience that enables innovative, customer-centric payment solutions."
Featured in the Luxe family are the elegant Luxe 8000i, designed for fixed acceptance areas including retail countertops and hotel registration desks, and the modular Luxe 6000m, ideal for both countertop and mobile acceptance uses like local roaming, line busting and field-level payments. The combination of the Luxe 6000i with FreedomPay's Pay-at-Table solution extends an efficient and improved dining experience that allows guests the freedom to pay their check right at the table. Magnetic-stripe, EMV and NFC contactless payments are supported, and the same software can run across all devices in the Luxe line. In addition, the solutions will be fully integrated with real time tracking, security alerts, and updates via FreedomPay's Device Management Portal.
"We are proud to team up with FreedomPay to deliver the benefits of gateway connectivity and PCI-validated P2PE to partners and customers," said Rob Hayhow, vice president, Equinox Payments. "This results in a significant reduction in both the time and complexities related to PCI DSS compliance, and extends peace of mind to retailers."
Equinox has also integrated its L5300™ multi-lane terminal to FreedomPay's secure platform. Designed specifically for high-volume retailers, the L5300 boasts EMV/smart card, contactless and NFC capabilities.
About FreedomPay
The FreedomPay Commerce Platform is the best way for merchants to simplify complex payment environments. Validated by the PCI Security Standards Council for Point-to-Point Encryption (P2PE) along with EMV, NFC and DCC capabilities, global leaders in retail, hospitality, gaming, education, healthcare and financial services trust FreedomPay to deliver unmatched security and advanced value added services. With broad integrations across top point-of-sale, device manufacturers and payment processors, supported by rapid API adoption, FreedomPay is driving the future of commerce and customer interaction. For more information, go to freedompay.com.
About Equinox Payments
Equinox Payments, founded in 2014, is looking beyond product features to rethink and reimagine the customer payment experience. For more information about Equinox, visit equinoxpayments.com.
EMV is a registered trademark or trademark of EMVCo LLC in the United States and other countries.