Equinox Payments and LISNR® Team Up to Deliver Payments Using Ultrasonic Data Transmission
Creates an Extraordinary Experience to Recognize and Reward Customers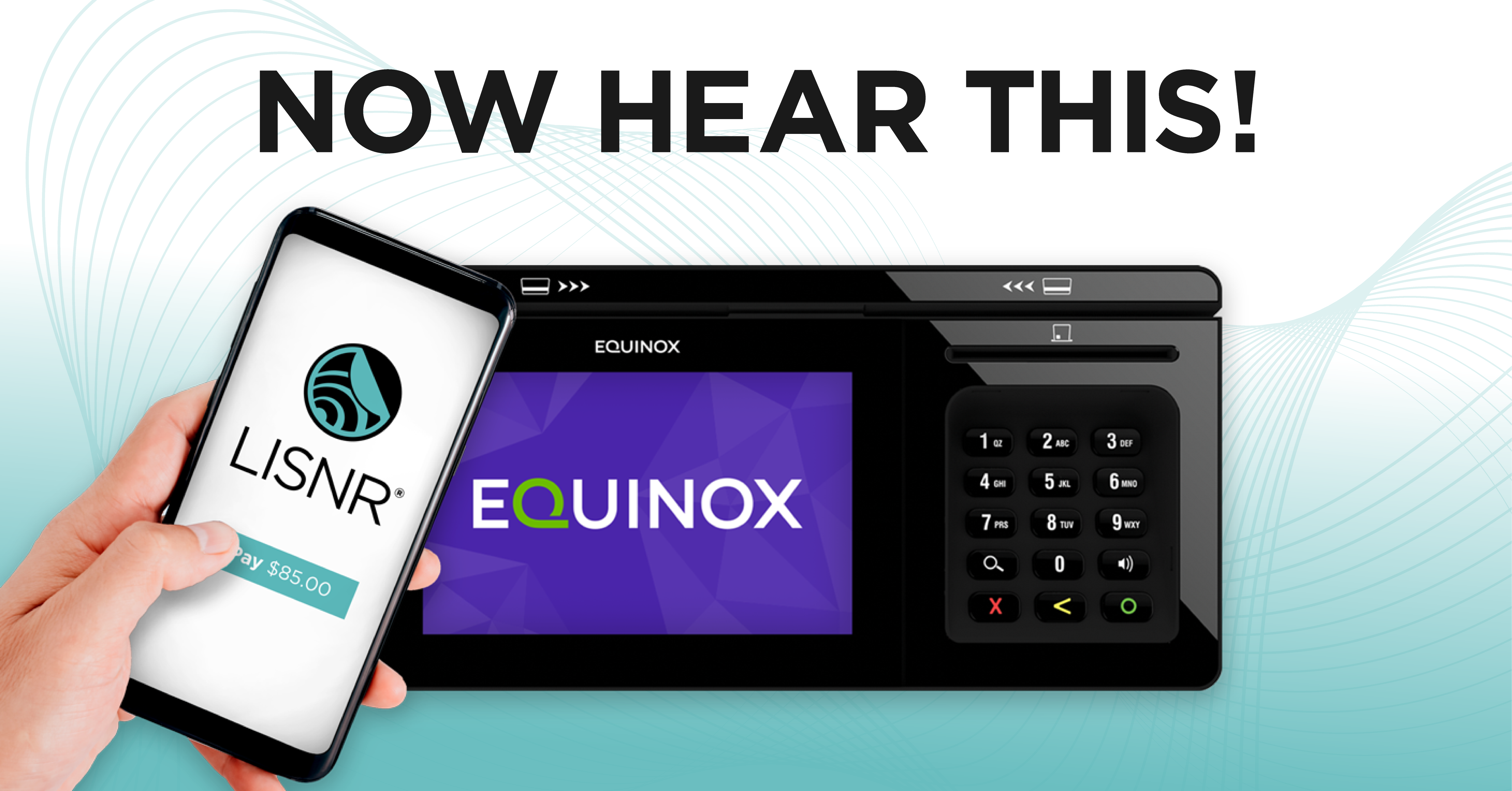 PHOENIX, AZ and OAKLAND, CA
— October 22, 2018 – LISNR, the world's most advanced ultrasonic data platform and Equinox Payments ("Equinox"), a leading provider of payment terminals, applications and support services, today announced a partnership to meet the increased demand for ultrasonic data solutions that enhance the payment and customer engagement at the point of sale. Equinox gains first mover advantage as the exclusive terminal manufacturer to be using proprietary LISNR technology to facilitate seamless payment processing between smartphone apps and Luxe terminals equipped with microphones.
Retailers are focused on making the checkout experience as simple as possible, while shoppers want to be able to complete checkout from anywhere in the store. Add to that a real need for secure authenticated payments using encrypted payment data and you have a tall order. LISNR offers a solution that solves these problems by using inaudible tones to authenticate shoppers and safely process payments. Equinox has integrated support for the technology directly into its Luxe line of terminals, using the built-in microphone so that customers can easily tap into the capabilities without additional CAPEX investments.
"Creating a frictionless path to transactions for consumers is a holy grail in the payments industry," said Eric Allen, CEO LISNR. "In our quest to attain that, Equinox stood out as both an innovator and leader. By combining our technologies, we've been able to quickly move to market with a solution that has a clear ROI for retailers, while keeping them competitive in a fast moving market."
Gone are the cumbersome steps associated with dipping cards, downloading and opening mobile wallets or scanning QR codes, which means valuable seconds are shaved off transaction times. Retailers with private label programs can skip the hassles and costs associated with issuing cards by deploying LISNR's software-based technology via an app that can facilitate payment and loyalty rewards using ultrasonic transmission.
"This relationship represents a transformative moment for Equinox, our customers and our partners," said Rob Hayhow, vice president, Equinox Payments. "Our Luxe devices were designed with the future in mind, and tapping into the innovative spirit of LISNR to deliver this solution demonstrates our focus and commitment to excellence. We are excited to work with the LISNR team and leaders across the payment space to introduce this new digital experience."
About LISNR
LISNR powers transactions and connects the online to offline customer journey globally with the most advanced Ultrasonic Data Platform. Originally developed as a device independent method of communicating short messages to consumers, the software solution inserts, then extracts data using inaudible tones through standard speakers and microphones. Today, companies like Jaguar Land Rover, Ticketmaster, Visa and more use this solution to create frictionless applications for consumers around the world. Founded in 2012, LISNR is headquartered in Oakland CA with an office in Cincinnati, OH. Major investors include Intel, Jump Capital, Mercury Fund, R/GA, and Synchrony Financial. To learn more about the LISNR technology visit:
http://lisnr.com
or email
info@lisnr.com
.
About Equinox Payments
Equinox Payments, founded in 2014, is looking beyond product features to rethink and reimagine the customer payment experience. For more information about Equinox, visit equinoxpayments.com.